The Mighty B! is an American animated television series co-created by Amy Poehler, Cynthia True, and Erik Wiese for Nickelodeon that is rated TV-Y7. This creator-driven[1] series centers on Bessie Higgenbottom, an ambitious Honeybee girl scout who dreams that, by collecting every Honeybee badge in existence, she will become a superhero known as the "Mighty Bee". Bessie lives in San Francisco with her dog Happy, her 6-year-old brother, Ben and her mom, Hilary.
The series premiered on April 26, 2008 with the episode "So Happy Together," which was the morning after Poehler's film Baby Mama had premiered. She had said prior to the premiere, "I'm going to go to bed and stay in my pajamas until 10:30 a.m. and watch Mighty B". Since its debut, the show has attracted an average of 3.1 million viewers.
It was announced in September 2008 that the show was renewed for a second season with 20 episodes, which premiered on September 21, 2009. The second season is the last, since The Mighty B! was not featured in Nickelodeon's list of renewed shows for the 2010-2011 TV season. The show ended with the series finale "C'mon Get Happy!," however "A Pirate's Life for B" was the last episode to air.
The series has been nominated for six Annie Awards and four Daytime Emmy Awards and winning one Daytime Emmy for Outstanding Individual Achievement in Animation. It has garnered one Artios Award nomination and one Golden Reel Award nomination.
Production
Development
Several years before The Mighty B! premiered, Amy Poehler was a close friend of both Cynthia True and Erik Wiese.[2] After seeing a picture of True when she was a Brownie scout,[3] they came up with the concept of a girl scout in the summer of 2004.[4][5] Creating a rough pitch just weeks later,[5] co-creator Amy Poehler and a number of people at Nickelodeon met together and thought about making a "female-driven" animated television series. Poehler stated that the series would be pitched as: "where this girl is at that great age [...] where you're not boy-crazy and you're not mean to other girls". She found that enthusiasm "fascinating" and wanted to "bottle it and take it like a pill". Poehler's role on Upright Citizens Brigade was used as a basis for Bessie's character.[5]
The Mighty B! was picked up for a pilot in early 2006 under the name of Super Scout.[6] It was co-created by Poehler, Cynthia True, and Erik Wiese. Brown Johnson, president of the animation at Nickelodeon Studios, was "absolutely thrilled to have a comedy team of the caliber of Amy, Erik, and Cynthia create this iconic character for a new generation". Poehler said that she was "thrilled that the world will finally meet the funny and sweet girl-tornado that is Bessie Higgenbottom [...] Erik, Cynthia and I are so pleased to be working with the wonderful people at Nickelodeon. In the words of Bessie, it's been awesome!" Originally ordered to have 13 episodes, the first season received seven more episodes in December 2006, totaling up to 20.[7] Character designer Chris Battle mentions he had "just started" working on the show in November 2006.[8]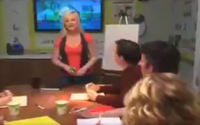 Bessie is loosely based on a character Poehler had played during her time at improvisational comedy troupes Second City and Upright Citizens Brigade, in addition to drawing inspiration from girls she looked up to when she was younger, to whom she called "the leaders". She described Bessie as a "feisty, plucky, bossy, Honey Bee scout" and called her "our hero [...] who goes on all these adventures in hopes of collecting all these badges". Erik Wiese has said Bessie's enthusiastic personality and the show's positivity was an intentional counterpoint to what he felt were too many television shows with sarcasm.[3] Adds Poehler: "We didn't want it [the series] to be that ironic or sarcastic."[3]
Amy Poehler referred to the show as "double the action, triple the adventures and quadruple the awesomeness". During an interview with TV Guide, when asked if Poehler was trying to appeal adults with the show, she wrote: "Yeah. What I love about SpongeBob SquarePants is that it's very watchable for an adult. But kids like it because they don't feel like they're being pandered to. That was what we were looking to do with The Mighty B! [...] We wanted to do a show that had a strong female character who didn't have too many rainbows and unicorns."
Described as having an "organic" look, Erik Wiese felt its "hand-made" feel was important, with backgrounds hand-painted (main background artists being Bill Wray, Jenny Gase-Baker and Seonna Hong, who were also part of the creative team)[5] and even having some parts of episodes animated in the United States prior to shipping to overseas studios.[4] Brown Johnson described the animation as "squishy and squashy."[5]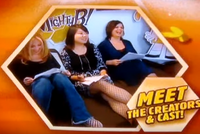 According to storyboard artist Sherm Cohen, the show was script-driven, the dialogue having been finalized before the storyboard phase.[9] Cynthia True noted that improvisation was common during recording sessions, enlisting a storyboard artist to write down ad-libs made by the actors; as voice director, she tried to record all the actors together as much as possible.[4] Kenan Thompson recalled usually reading lines alone, doing so in New York with Amy Poehler while most other actors recorded in California.[10]
Prior to the series airing, test screenings were held where children watched the show. Brown Johnson noted some girls "just can't take their eyes off of [Bessie]" while others were "just shaking their heads and laughing." Conversely, Happy proved to be popular among the boys, in addition to Ben "never getting his fair share."[11]
Promotion
The series received some promotion prior to its premiere; in November 2007, the book Not Just Cartoons: Nicktoons! was released, which documented all cartoons created for Nickelodeon ("Nicktoons") up to the publishing date. It included The Mighty B! as a bonus cartoon, as the show was slated to premiere the following year.[11] That same month, the pilot episode "So Happy Together" was included as a bonus disc for the SpongeBob SquarePants DVD Atlantis SquarePantis.[12]
The series had originally been set to premiere in January 2008, but it was delayed to air three months later.[13] In April 2008, the same month Mighty B premiered, the Nickelodeon online game Nicktropolis had a locale in the game based off the then-upcoming series.[14] Additionally, several commercials aired to promote the series.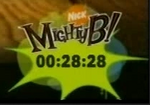 On April 26, 2008, the morning the show premiered, a timer appeared in the bottom right corner on Nickelodeon as opposed to the logo, counting down to 10:30 AM (EST), when the show would air the first episode, "So Happy Together." Back at the Barnyard served as a lead-in for The Mighty B!.
Voice cast
Amy Poehler voices Bessie Higgenbottom,[15] a 9-year-old Honeybee scout. Poehler describes her as "superoptimistic and a super spaz" and "a bit bossy, but with good intentions". Dee Bradley Baker voices Happy Higgenbottom,[15] Bessie's dog which she finds at the city harbor in the very first episode.
Andy Richter voices Ben Higgenbottom,[15] Bessie's younger brother. Richter is also the voice of Mort on the Nick show The Penguins of Madagascar. Richter talked about The Mighty B!, quoting: "[...] another dream come true, to be able to do cartoon voices! And, also, to get to do cartoon voices for [Ben and Mort] two really funny, cool cartoons that my kids love and that I'm proud to have them, love. It's pretty great." Dannah Feinglass voices Penny Lefkowitz,[15] Bessie's best friend. Feinglass is also a writer for the show. Grey DeLisle voices Portia Gibbons,[15] a Honeybee scout, Megan Cavanagh voices Hilary Higgenbottom, the single mother of Bessie and Ben, and Jessica DiCicco voices Gwen Wu,[15] Portia's friend.
Sarah Thyre provides the voice of Mary Frances Gibbons, Portia's mother and the Honeybee troop leader. Kenan Thompson is Rocky Rhodes, a close friend of Bessie who enjoys skateboarding. Matt Besser performs double duty, giving voice to the bizarre and wise Hippie as well as the arrogant Anton St. Germain. Keone Young voices restaurant owner Mr. Wu, Kevin Michael Richardson is the local mailman Donald, Rob Corddry plays the incompetent Doctor/Vet and Jill Talley gives voice to tour guide Rainbow. Niecy Nash appeared in two episodes, voicing Honeybee president Miriam Breedlove.
There have been numerous guest stars on the series, including sitcom star Jackée Harry, noted comedian Brian Posehn, longtime television producer Dan Schneider, Saturday Night Live cast member Maya Rudolph, comedian Will Arnett and actor Zachary Gordon. For more characters, please see the characters article below.
Crew
Erik Wiese, the show's co-creator, directed every episode of the series alongside co-directors Alex Kirwan, Larry Leichliter, Eddie Trigueros and Bill Wray. Among the writers, Jessica Gao penned the most episodes with 35, while Sunil Hall holds the distinction of storyboarding more episodes than anyone else (14). Seonna Hong served as art director for the entire series, and co-creator Cynthia True was the show's story editor.
Characters
Episodes
Critical reception
The series received generally positive reviews from television sources and critics. One review from Brian Lowry of Variety explained it contains a "kind of crazed energy and inventiveness that isn't associated often enough with girl-oriented children's fare [...] [and] opts for a more elevated approach – like that aforementioned roller-coaster jaunt, taking a free-spirited jump off the tracks and trusting its audience to hang on for the ride."[16]
David Hinckley of Daily News gave the show four stars while writing that The Mighty B! "has a decent shot at becoming a pre-tween fave."[17] Aaron H. Bynum of Animation Insider called the series a "good, brainless cartoon [...] [Because] viewers shouldn't ever be bored with Bessie," but criticized part of its humor for not "try[ing] to do too much, which may ultimately work against it when the story calls for the characters to do too little."[18]
Denver Post contributor Joanne Ostrow declared the protagonist of the series a "female answer to SpongeBob SquarePants", and stated that the show could also be entertaining for adults.[19] Among the favorable reception was a mixed review from Common Sense Media's Emily Ashby. She said while it "maintains a chaotic pace, and there are no real attempts to teach strong positive lessons [...] Young tweens will likely enjoy Bessie's outlandish, fantasy-fueled adventures – which are fast-paced and, on the surface, entertaining."[20]
Tim Goodman, a television reviewer for The San Francisco Chronicle, stated the show is "partly about growing up and fitting in and the anxiety that can come with that." He pointed out the series is primarily "cartoonish escapism" with only a "smattering" of educational value. Goodman finished his review off by stating The Mighty B! would be most popular with viewers who are in the "tween" demographic.[21]
Ted Cox of The Daily Herald offered a mixed review, opining the show had very little individuality (comparing it unfavorably to The Ren & Stimpy Show) and viewed the scripts as too simplistic. However, Cox praised Amy Poehler's acting ability, claiming it was the show's "staying power."[22]
Contrasting positive reviews, reviewer Marilyn Moss of The Hollywood Reporter had a particularly scathing critique on The Mighty B!, referring to Bessie as "a narcissist" and viewing the show as violent, unoriginal and without much thought put into it.[23]
Ed Liu of Toon Zone called The Mighty B! a show that he admires more than what he "truly love[s]", stating: "There is prodigious talent behind it and it's the wonderfully energetic boisterous comedy. It's clearly trying very, very hard to be entertaining and largely succeeds [...] I almost feel bad for not liking The Mighty B! more than I do, and I'm still not sure why I don't enjoy it more". He noted it was worth pointing out that more recent episodes of the show seem "more assured and funnier" than the eight episodes on the We Got the Bee DVD. Michael Arbeiter of Bustle said in a retrospective review for the series that the show was "vibrant."[24]
Author David Perlmutter, who has written books focusing on cartoons, stated The Mighty B! is "genuinely funny, engaging and engrossing"[25] and that "[it] deserved a far longer run than it was allowed," praising the "high quality" of the show, in particular its voice acting.[26]
Fandom
Although The Mighty B! was not well liked by some, it still managed to find its own fanbase. Many of which would visit TV.com or The Mighty B! Fanon Wiki to share fan-made episodes, characters, and art similar to other shows in the past.
Daniel Radcliffe is a notable celebrity who says he is a "massive fan" of the series, telling Poehler this upon meeting her.[27] In October 2019, a no context account featuring clips from the series was created on Twitter and posts on a regular basis. The account has over 10,000 followers as of March 2022.[28]
Other media
During its run, Nickelodeon made eleven online games where one could play as Bessie and the others on the channel's website; some were original ideas, while others were based off of episodes. Several comics were also published in Nickelodeon Magazine, most of which were written by Jessica Gao.[29] One such comic was Bessie Higgenbottom's Five Foolproof Ways to Hide Bad Cooking!.
Bessie appeared at the 2009 Kids' Choice Awards, where she competed in the Nicktoons Burp-Off contest alongside several other Nicktoon characters, but lost to Rico (from The Penguins of Madagascar). She mentions the existence of the Burp Badge during the special.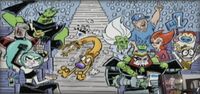 Although no characters from the show have been playable in any Nicktoon video games released on gaming consoles, Bessie did make a cameo in a loading screen for the baseball game Nicktoons MLB. She is seen as a spectator in the bleachers, right in front of Stimpy from The Ren & Stimpy Show. Bessie herself was going to be a playable character in the unreleased Nicktoons game SpongeBob SquarePants and the Nicktoons Gravjet Racing, though it was cancelled.
The show was also featured as a question on the game show Who Wants to Be a Millionaire?, the question being: "Who was the voice of Bessie Higgenbottom on the Nickelodeon show "The Mighty B!"?" The contestant, unsure of the answer, asked the audience what they thought; the majority incorrectly guessed Sarah Silverman. Ultimately, the contestant chose to use his remaining lifeline and skip the question, thereafter the correct answer was revealed.[30]
Ratings and cancellation
The Mighty B! premiered at 10:30 AM on April 26, 2008, and scored "above average for Nickelodeon programming" in the Nielsen ratings. It ranked in the top ten of all programming for combined broadcast and basic cable shows, with 1.92 million viewers in the 2–11 demographic and a rating of 5.2/23. The Mighty B! had double the viewership as Bakugan. Animation World Network reported in July 2008 the show had become a "hit" for Nickelodeon, averaging 5.5 million viewers an episode.[31]
In September 2008, the show had an average of 3.1 million viewers, and in the second quarter of 2008, the show ranked among the top five animated programs on television. As of March 2009, it was the third highest-rated show for children 2-11, only trailing fellow Nicktoons Back at the Barnyard and SpongeBob SquarePants.[32] During the third quarter of 2009, it averaged 2.6 million viewers and was number-one in its timeslot in the children's 2-11 and children's 6-11 demographics.
The second season premiered on September 21, 2009.[33] In November 2009, co-creator Erik Wiese subtly hinted on his Facebook page that the show had been cancelled: "Goodbye Bessie. Goodbye Happy. It was good knowing you."[34] The reason has never publicly been revealed; however, background artist and director Bill Wray has stated: "I'm not at liberty to say what were the combination of circumstances that lead to the shows[sic] demise, but the sad truth was it was preventable. Nobody wanted it to happen including the network."[35]
After January 2010, Nickelodeon stopped airing new episodes on the channel, with the remaining episodes of season 2 burnt off on Nicktoons starting in November 2010 and ending the series in June 2011. Reruns aired in North America on the Nicktoons channel as late as November 2015.[36]
Availability
Two compilation DVDs were released of the series: We Got the Bee! and BEEing Bessie Higgenbottom, both in 2009. They contained select episodes from the first season in addition to special features, such as interviews with the cast and crew, animatics and karaoke for the songs Running with the Rainbow Unicorn and Buzz Off!.
In addition to the DVDs, the show is available for purchase on iTunes and Amazon Prime, separated by season.[37][38] For a time, The Mighty B! was a viewing option on Netflix, but later removed. In December 2020, the series was added on the streaming service CBS All Access (now Paramount Plus).[39]
Resurgence on NickRewind
On February 14, 2021, it was announced that the show would be joining cable channel TeenNick's NickRewind block, marking the first time the series has aired on television in the United States since 2016. Although it was slated to start on February 21 with a set timeslot of 4 AM to 6 AM every Sunday,[40] it was delayed. The Mighty B! made its debut on the block at 4:00 AM on March 1, 2021 to promote the streaming service Paramount Plus, which the show is a part of.[41]
The show aired intermittently on the block afterwards, namely on April 17, June 26 and three weekend marathons: July 23-25 and again from October 1-3 and once again from December 9-11.[42] Despite airing late at night, the series proved popular on TeenNick, as in July it had an estimated 44,000 viewers on its first two nights and 25,000 on July 25, considered great numbers in the streaming age.[43] The NickRewind block ended on January 31, 2022.
Awards
Home video
International versions
Hebrew: בי הגדולה מכולם!
German: Mighty B! Hier kommt Bessie
French: Super Bizz !
Trivia
Writer Brendan Hay has said the following on a more proper conclusion to the series: "The other writers and I always talked about an ending where she (Bessie) gets all the badges, doesn't turn into the superhero (turns out it is just honorary), but then decides to become the superhero on her own anyway."[44]
One notable aspect of the series is that the child characters are never seen attending school. The reason for this is the majority of the series takes place during the summer, as established in the first season episode "We Got the Bee." However, some episodes do take place in different times of the year, such as Mother's day, Halloween and Thanksgiving.
Unlike most animated series (especially ones targeted to children), it is established in season 2 that the characters have aged between seasons. Bessie and Happy celebrate their friendship anniversary in the series finale, "C'mon Get Happy!," with Bessie stating they have been friends for 104 weeks. This means the show's timeline spans exactly 2 years between the pilot and final episode.
Gallery
References
External links