The Wu residence serves as home for Gwen and her brothers. In season 1, the house's facade is predominantly purple with blue roofing, however it is changed to a blue and green color scheme in the second season.
It first appeared in "Bee My Baby," and was featured occasionally until its final appearance in "Children of the Unicorn." Gwen is most often seen babysitting her younger brothers inside the house or on the porch.
Inside the house, the living room is seen most frequently, shown in every episode the home's interior was featured. The house moved in season 2 from the suburbs to a secluded area near the San Francisco ocean, though the living room looks the same on the inside. Those who have visited Gwen's house include Ben, Bessie, Happy, Penny and her best friend, Portia.
Features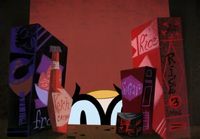 The Wu residence is composed of most rooms expected of a home: a bathroom, kitchen and living room. The bathroom has a sky blue color scheme, with a tub consisting of red shower curtains. Inside the kitchen, the wallpaper and cupboards are entirely red, also having a yellow refrigerator and a brown bread box.
The living room uses green paint for the walls, and consists of white wood paneling for the floor, a blue sofa and dining table with a pink and red cover. A photo hangs over the sofa, presumably a picture from China (Gwen and her family are Chinese). Near the front door is a red leather chair in addition to a blue dresser. There is also a blue television set in front of the sofa, as seen in "Super Secret Weakness." A nearby backdoor appears in this episode only.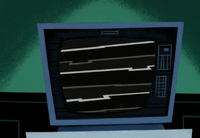 There are at least two bedrooms, one for Gwen and another shared by her younger brothers. In season 1, Gwen's room has a black color scheme with red curtains and a pink rug. However, in the second season, her room has since been repainted with green wallpaper, having brown wood as the floor. Her bedroom is shown to contain a bed and several things on the wall, including a unicorn, rainbows and a Joan Jett poster.
The boys' bedroom uses different shades of blue, from the wallpaper to the beds. The floor tiles are the same color as well. Gwen's brothers all sleep on the same bed, big enough to accommodate four of the five boys. A toy box is nearby for when the boys want to play.
Gallery
Trivia